Behind The Blog
is a meme to help bloggers connect their life and interests to the content showcased on their blog. The co-hosts
Faye
Kathe
and
Melissa
will provide a different topic, idea, or question every week that bloggers can relate to themselves and the books, films, or media they find interesting!
Did you know that colors have meanings attached to them? Some say that a person's favorite color can be indicative of their personality or things that they are striving for in their lives. What's your favorite color? Do you think the meaning behind your favorite color reflects your personality or something that you are trying to acheive? What is your least favorite color?
In relation to books/films:
Are there any books you've read that make good use of color? Are there any films you've seen where color plays a major role in the plot of the movie?
My favorite color has actually changed in the last few years. It used to be dark blue, but now it's purple (in case you couldn't tell from the design of my blog) I don't know when the change happened, but I suddenly started to love all things purple.
The meaning behind the color purple:
The color purple relates to the imagination and spirituality. It stimulates the imagination and inspires high ideals. It is an introspective color, allowing us to get in touch with our deeper thoughts.
The difference between violet and purple is that violet appears in the visible light spectrum, or rainbow, whereas purple is simply a mix of red and blue. Violet has the highest vibration in the visible spectrum.
While the violet is not quite as intense as purple, its essence is similar. Generally the names are interchangeable and the meaning of the colors is similar. Both contain the energy and strength of red with the spirituality and integrity of blue. This is the union of body and soul creating a balance between our physical and our spiritual energies.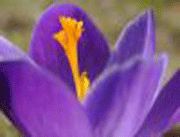 Purple or violet assists those who seek the meaning of life and spiritual fulfillment - it expands our awareness, connecting us to a higher consciousness. For this reason it is associated with transformation of the soul and the philosophers of the world are often attracted to it.
In the meaning of colors, purple and violet represent the future, the imagination and dreams, while spiritually calming the emotions. They inspire and enhance psychic ability and spiritual enlightenment, while, at the same time, keeping us grounded.
The color violet relates to the fantasy world, and a need to escape from the practicalities of life. It is the daydreamer escaping from reality.
From a color psychology perspective, purple and violet promote harmony of the mind and the emotions, contributing to mental balance and stability, peace of mind, a link between the spiritual and the physical worlds, between thought and activity. Violet and purple support the practice of meditation.
The color violet inspires unconditional and selfless love, devoid of ego, encouraging sensitivity and compassion. Violet can be sensitive to all the different forms of pollution in the world today, whether it be air pollution, noise pollution, visual pollution or the pollution in our food chain. This sensitivity makes violet susceptible to illness and allergies, vulnerable to its everyday surroundings.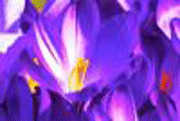 Violet encourages creative pursuits and seeks inspiration and originality through its creative endeavors. It likes to be unique, individual and independent, not one of the crowd. Artists, musicians, writers, poets and psychics are all inspired by violet and its magic and mystery.
Violet is the color of the humanitarian, using its better judgment to do good for others. Combining wisdom and power with sensitivity and humility, violet can achieve a lot for those less fortunate.
The color purple is specifically associated with royalty and the nobility, creating an impression of luxury, wealth and extravagance.
Purple has power. It has a richness and quality to it that demands respect. Purple is ambitious and self-assured, the leader.

I'd say that this fits me pretty well. I have aspirations and creative dreams of being a writer, I can be pretty sensitive at times, and I really enjoy helping others. I've also read in other sources (can't remember quite where at the moment) that purple is connected to magic and mysticism. This is probably why I'm so interested in books with themes of magic.
In the last few months to maybe a year I've become slightly purple obsessed. My blog is purple, I have 4 or 5 different purple clothing articles, I've found and purchased purple bedsheets. I've spotted purple dishware and silverware that I'd like to buy. I'm not buying any of the rest of those things but it's all going on my mental wishlist for some point later on when I might have some extra money to spruce up my living space.
There is one item in particular that is very dear to me that ties in with my love of purple. This past Christmas, I got the opportunity to spend the holidays with my boyfriends family. One of our gifts was a handmade quilt crafted by my boyfriend's mother. It was meant to be for both he and I, but the color choices and pattern clearly indicate that it was made with me in mind. My boyfriend even says that it's my quilt, not his. He even helped to choose the colors and told his mom what I liked.
I don't have a picture of it to share right now, but maybe I will in a future post.
You've probably seen it, at least parts of it, in my book haul posts. I usually lay out my book goodies on my bed, so the quilt is invariably in the background of some of those posts.
It's made of various patterns of purple and green, and is absolutely beautiful. It's something that I will treasure forever.
Books and Films:
Some of the most recent books I've read that make good use of color have to be:
A fun story about a teen who becomes a superhero. The descriptions are awesome. You can read my review
HERE
Any of the books in The Hunger Games series would work, particularly when the descriptions of Cinna's beautiful dresses for Katniss are described.
The only film I can think of that deals with color as part of the plotline is ,Pleasantville, which is a pretty good film.
So that's my purple personality in a nutshell. What about you? What colors do you like, and why? I'd love to hear your thoughts!
Don't Forget!
If you're choosing to join us for Behind the Blog don't forget to link up your post by using the Linky list below!
Are you joining us? Here are our rules:
The hosts' Behind the Blog posts go live at midnight on Friday, GMT+0:00. Feel free to post before that, just link up on Friday!

Feel free to make use of the button shown above, or if it clashes with your blog colours e-mail us or make your own.

Read, write, and connect! The Linky is there for you. Make use of it!

Last but not least, have fun