Welcome to my stop on the
Weak at the Knees
blog tour, hosted by
Pump Up Your Book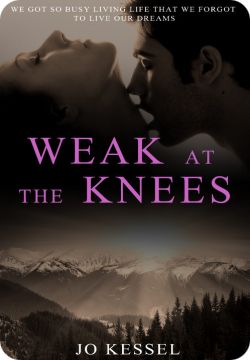 Title: Weak At the Knees
Author: Jo Kessel
Publisher: Createspace
Published: September 20, 2013
Format: Paperback
Pages: 285
Source: Received in exchange for an honest review
Mini Musing:
My Rating: 2 Stars
Synopsis:
"We got so busy living life that we forgot to live our dreams."
Danni Lewis has been playing it safe for twenty-six years, but her sheltered existence is making her feel old ahead of time. When a sudden death plunges her into a spiral of grief, she throws caution to the wind and runs away to France in search of a new beginning.
The moment ski instructor Olivier du Pape enters her shattered world she falls hard, in more ways than one.
Their mutual desire is as powerful and seductive as the mountains around them. His dark gypsy looks and piercing blue eyes are irresistible.
Only she must resist, because he has a wife – and she'd made a pact to never get involved with a married man.
But how do you choose between keeping your word and being true to your soul?
Weak at the Knees is Jo's debut novel in the new adult, contemporary romance genre – a story about love, loss and relationships, set between London and the heart of the French Alps.
Melissa's Musings:
I have mixed feelings about this book. In some sections, it feels like it tries too hard, in others not hard enough. My main issue is that I didn't feel any sort of real connection to Danni. All she seemed like to me was a whiny,unmotivated main character. She feels like she tries too hard to be something she isn't by trying to make drastic changes after Amber's death. In the beginning of the story she seems to be someone who is more content to sit on the sidelines, and suddenly Amber's death is throwing her into a tailspin and she has to go and do something unusual. And that something unusual is trying to escape her depression by running off to be a ski instructor in France.
Since I wasn't able to connect with Danni on a basic level, I also had a difficult time really believing her grief over Amber's death. I didn't feel enough of the build up of their friendship for it to really matter. Yes, she told us how she was feeling regarding Amber's death, but I didn't truly see it in her actions. I felt like the fact that they were supposed to be best friends was implied rather than shown. Since they are supposed to be best friends, it felt like the reader was just instantly meant to feel the connection that their long time friendship would give them. I wish that there had been more time given to the development of their friendship and relationship. If there had been, I would have been more entrenched in Danni's journey to change her life.
One aspect of the book that I did enjoy was the setting. The settings and scenery of the story were beautiful, and I could see them in my head as I read. I wanted to be in theses same places, enjoying the sights and the snow right along with the characters.
Anyone who has read my reviews for a long time also knows that I am a sucker for any type of baking and cooking within stories, so I really enjoyed reading the scenes where Danni or the group is enjoying different types of food and drink. I thought that the scene where Olivier is making hot chocolate for them is really well done, I could almost taste it when I read that part
The relationships in the book aside from Danni and Amber's are interesting, but they also feel underdeveloped. It felt to me as though the reader was left to their own assumptions a little too much, and that there needed to be more development throughout the story. There is an interesting web of romantic relationships in the story with Danni being in the middle. Her relationship with Hugo seems flat, boring, and played out, so when he takes a drastic measure of his own to try and win Danni back, it feels forced, and much too late. The relationship with Rod isn't really off too much significance either, I felt it could have been left out altogether.Then there's Michel, who's trying to win her over, but she's too focused on Olivier to notice. I have to admit I do feel the tiniest bit bad for Michel, but at the same time I don't, because of the lengths he went to to drive her away once he found out about her involvement with Olivier.

I did enjoy the arc between Danni and Olivier, and was rooting for them a little bit, despite their being together breaking the pact she and Amber made. But, despite the few wrenches thrown into their relationship, I felt let down by it too. It all wrapped up too neatly in the end, and felt unrealistic.


Overall, the story fell short for me, and I didn't enjoy it nearly as much as I originally thought I would.This book has beautiful settings, and exquisite sounding food, so if those are things you like to read about this book's for you.